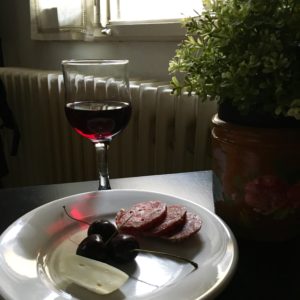 Last summer, we took a magical trip to Italy. We drank macchiatos in Rome, stood awestruck beneath the statue of David, ate fresh "pesce" from the sea in Vernazza, and met long-lost family in the Trento region.
One afternoon, our apartment was quiet; everyone had run off to see the sights, so I made myself an "aperitivo" of wine, cherries, cheese, and soppresata. I rested by an open window, allowing the aroma of truffle oil from a nearby restaurant to flow in. Then I sat back, took a sip of Chianti, and opened a notebook.
That couple of hours of solitude produced the first chapter of my next novel.
I tell you this because one of my aims in running my own indie career is to have the freedom to travel~and write~from wherever the wind (aka Virgin Atlantic or the like) takes me.
When I started this blog, my intentions were twofold:
1. Show new indie writers the basics so they can get started, and
2. Encourage said writers to follow their dreams, whatever they may be.
Up till now, I've been focusing on point #1, but today I hope I've given you a small glimpse into one afternoon that has never left me. And there are many more like it in my history. I have written on vacation in Cambria-by-the-Sea, in a rented cabin in Lake Arrowhead, and even while visiting family in rural Pennsylvania.
What are your dreams? Can you see a way for indie publishing to help you get there? Consider posting a reminder somewhere so that when life gets hectic, you won't forget to reach for that goal. As for me, I think I'll just keep this photo of my late afternoon aperitivo handy …