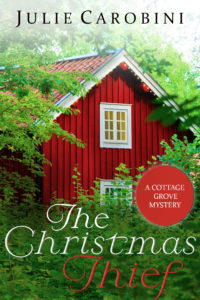 I wanted to give you an example of a project that nagged at me until I finally sat down and wrote it in Scrivener in a month's time, converted it to an ePub, then released it out into the world.
The Christmas Thief, a cozy mystery, started off years ago as a romance. I'd written a few chapters, sent them to a publishing house, and got the coveted letter asking me to send the rest of the book.
I was thrilled! (Like doing-cartwheels-in-the-house kind of thrilled.)
My kids were little then, and I struggled to write the remaining chapters amidst the chaos. But I did it and sent them off to the publisher.
The book was rejected. Broke my heart!  But I picked myself up and wrote another book ~ and that one was rejected too. (What did these people want, anyway??!) Eventually I wrote a chick-lit novel (Chocolate Beach), and that first sale let to many other book contracts.
But I never forgot about Tasha and Marc in the little town of Cottage Grove. So in 2015, I dusted off that original manuscript, and realized that it needed work. I winced at the passive voice and one-dimensional characters. (Okay, so maybe there was a reason it wasn't picked up the first time around … sigh.)
But I could see the tip of a diamond peeking out beneath the rubble, so I called my mom, Elaine, a mystery fan, and asked her to brainstorm with me. The result was this novella, my first foray into the cozy mystery genre.
This little book showed me a few things:
I CAN write in another genre that I love (more than one agent advised me not to try)
I CAN sell in another genre that I love (Thank you, Amazon)
I CAN write, publish, and sell an eBook fast (Nike's slogan isn't a suggestion 🙂 )
So be inspired to today, my friends, to turn the standard advice on its head and … just do it. (You knew that was coming, right?)
How to Give an Old Story New Life