The bravest souls understand the fears that drive them, and they attack those fears. Relentlessly. ~ Max, from Sweet Waters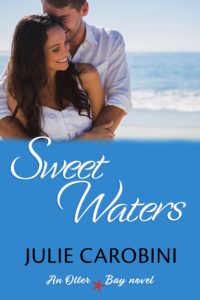 Funny story about that quote. A reader posted it to my Facebook author page a few years ago without further commentary. I was intrigued. Fears drive all of us, but do we realize it? And if we do understand our fears, do we fight off those that keep us from achieving our goals? Or do we let them rule us into submission (and lose our dreams in the process)?
A couple of years after that quote was posted on my page, I wanted to include it in a story I was working on. Knowing I should attribute it to its author, I searched for it on Google and couldn't believe the source of that statement: one of my own books!
Wha??
Turns out the quote was uttered by one of my characters in Sweet Waters. And I'd forgotten (obviously). This is called getting lost in your writing … but that's for another post ;-).
I bring up this quote because of something I discovered when I joined a large indie group on Facebook (there are a bunch of them). All those voices in varying stages of indie publishing, many tinged with the angst of confusion as they navigated the industry, overwhelmed me. Those first few posts, with their rising, conflicting voices, caused me to freeze up. At that point, as I recall, I could not make one decision that would move me forward.
Here's the thing: I didn't even join an online indie group until I had already independently released four titles! If I was overwhelmed, what might a newbie be feeling? Ugh. Whatever it was, I felt, it couldn't be good.
A year or so after that, a friend and I started a small group of like-minded writers so we could talk about the ins and outs of this ever-changing business. We have helped each other tremendously.
So to the question of whether you should join an online indie author group (or do any of the other amazing things that can help you move forward), I say, "Do it." But do it cautiously. The minute you begin feeling overwhelmed, log off and take a walk. While you're out there, breathe deeply – and kick your fears to the curb.
Then go back in, face that computer again, make notes – and do one thing that will move you forward. I once heard prolific author Lee Roddy say that if you wrote one page a day – you'd have a book finished in a year. Pretty darn good advice, I'd say.
So do one thing each day – like joining an indie writers group with your eyes wide open or start one of your own with friends – and you are bound to hit your goals. Don't give up.
Should You Join an Indie Writers' Group?